It's time, folks, for another edition of
THA
NK Y
OU V
ERY
MUC
H TH
URS
DAY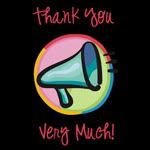 Want to join in on the free therapy session?
Visit
KMAMA
at the Daily Dribbles and join the fun!
To the company that makes the wal-mart brand of spray on sunscreen that DID NOT WORK and resulted in second and third degree sunburns on my legs, hindering my ability to walk for an entire week, thus causing the house to be in shambles . . .
really . . . i needed that vacation
To my husband's wonderful aunt for coming into shambled house thus embarassing me entirely
i am still embarrassed you had to see the house like that
To my fourteen year old son that took half an hour to vacuum our tiny 10X5 rug in the living room - badly
i am sure you were trying (ahem)
To my mother for constantly reminding me that my two year old is "ready to be potty trained" and I should "get on it" soon
everyone needs to hear how badly their doing with their kids
To the woman in front of us in the Wal-Mart line with 10,000 coupons and the V E R Y S L O W C A S H I E R that was checking her out
we didn't have anyplace to be. really.
And a very sincere
TH
AN
K Y
OU
VE
RY
MU
CH
to my amazing husband who helped out tremendously last week when I couldn't even sit with both feet on the ground.