Alrighty folks, here it is, another edition of
THANK YOU VERY MUCH THURSDAY!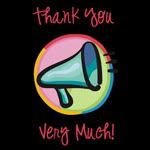 The way it works is that you take out all your frustrations on people/things that peeved you off during the week and
thank them
in a very sarcastic way, for being who or what they are/doing what they did.
So for YOUR free therapy session, hop on over to KMAMA's blog "The Daily Dribbles" and link up!
♥To Google Chrome for running unbelievably slow and making my internet time much longer than it should be
THANK YOU VERY MUCH
i really don't have anything better to do than sit here and watch a page load
♥To my university for STILL not having my financial aid "issue" resolved, and for probably resulting in a repeat of last year, where I had NO BLOODY BOOKS for the first three weeks!
THANK YOU VERY MUCH
perhaps i could come do your job FOR YOU?
♥To the individual that insists on having toys in his bed so he can stay up until 9 playing instead of going to sleep at 8 like you were supposed to
mommy's going to make you a very upset little boy tonight
♥To the spiders that are invading my carport and my laundry room (see tomorrows TMI Friday post for the full story)
To the blankets and pillows that keep piling up with no place for storage
THANK YOU VERY MUCH
you are SO lucky i need you . . .
Don't forget to go visit KMAMA for your free therapy today!
And don't forget to stop by tomorrow for my Meme:
Arachnophobia Edition