Happy Monday everyone!
It's time for
Making Your Home Sing Monday!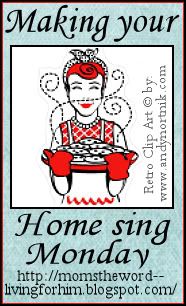 First off, here's this weeks
MENU
Now, let me ask you a question.
Now you're probably setting there going "what on earth is this crazy lady talking about?"
Well, if you are like me, you are not exactly the best housekeeper in the world.
You're overwhelmed.
You're distracted.
You're frustrated.
The mess is taking over your home and your life.
Well, for me, this is no longer the case. My house is no where CLOSE to perfect, but it is getting better.
How did I make that change?
Well, first I whined. A lot.
And I cried. A lot.
And I blamed everyone else in the house for the mess.
A LOT.
Then I got on the computer and talked to other moms.
They recommended the FlyLady's website - www.flylady.net
The first thing the Fly Lady (who's name, by the way is Marla Cilley) tell us to do is to go shine our sinks.
And she gives detailed instructions.
That was the kicker for me.
So, I went and shined my sink for the very first time in my life.
I felt like a huge weight had been lifted off my shoulders.
Soon the rest of the kitchen followed, then the living room, then the hallway, then the bathroom.
Now, we live in a teeny tiny house, so really, that's all company will ever see.
Little by little, we're working on bedrooms.
Now, for you, you're shiney sink might not be a sink at all -
It may be your kitchen floor or counters.
It may be your bed being made
It may be a clean bathtub or toilet.
Whatever your "shiney sink" may be, go do it! Right now!
Waking up every morning and seeing that one thing shining back at you will make you smile.
And as everyone knows,
When you give a mom a smile,
her home sings!