It's time for another edition of :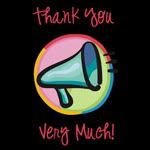 THANK YOU VERY MUCH THURSDAY
To my two year old son for thinking I am a climbing toy/jungle jym
i love the fact that you love me so much, but really, COME ON
To my six year old for sitting ON me instead of NEXT TO me.
i'm not hot enough as it is, really.
To my ankle for hurting THREE DAYS IN A ROW
you can stop now. anytime.
To all the electronics and media companies used in my home for NOT WORKING
it's not like I had anything better to do. really.
To the tires on the boat trailer that just don't seem to want to stay aired up
i love spending money on tires.
To my college for "randomly selecting" me for a verification process TWO YEARS IN A ROW delaying my financial aid ONCE AGAIN
you people are starting to tick me off.