Alrighty kids, it's time for another edition of
MAKING YOUR HOME SING MONDAY
!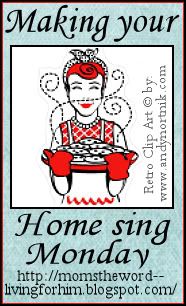 If you'd like to link up to Making Your Home Sing Monday or would like to know how to make YOUR home sing, visit Nan at
Mom's The Word
to find out more!
I am the world's worst procrastinator.
I always think : Oh, I have time. I don't have to do that now . . .
And then the inevitable happens:
A deadline for a 14 page paper on the intricacies of the British republic during the Tudor period in England;
A birth-control prescription runs out;
The fridge gets over full with food that is rotten and inedible;
The printer runs out of ink or the print head gets clogged;
The house gets messier . . .
Oh, the list could go on and on (and often does).
I am learning about time management, and am TRYING to work on it.
TRYING, I say.
But it's really hard.
I don't want to unload the dishes when I could be watching my husband play a video game.
I don't want to read an assignment when my three year old wants some "lovin's (yuvins)".
I don't want to mop the floor when I could be sitting on the computer writing a blog post.
I just don't want to.
But I am learning that time management isn't necessarily about getting all the "I-have-to-but-I-don't-want-to's" out of the way first. It's more about spreading your time equally and not getting bogged down. And it's also about figuring out what's more important.
For me, that priority list starts with my God, first and foremost. So, above everything, HE comes first.
Then comes my family. They come before everything else, no questions.
Then school.
THEN the house.
It helps to have your priorities in order.
I am learning that it's okay if the house gets out of sorts when I'm in the middle of a research paper or a midterm.
I am learning that it's okay to put off doing the dishes for some quality time with my husband.
I am learning that the floor is STILL going to be there, even after I cuddle my kids.
So, I still need to learn to call and make doctor appointments . . . but I'll get there . . . eventually.
So . . .
What are your priorities?
How do you manage your time?
For more
Making Your Home Sing Monday
's don't forget to visit
Mom's The Word
!