It's time for another Edition of Making Your Home Sing Monday!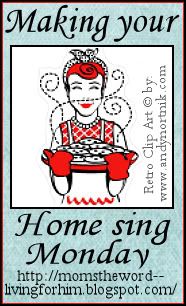 We tell our kids all the time how important school is and how important an education is.
But do we show them?
Some of us already have degrees under our belts, and some are even using those degrees. This is such a great thing to show your kids! "I finished high school, and even finished college. Here's my degree. This is what my having one has done for our family . . ." Nothing like showing your kids that you're degree in _(insert subject here)__ has helped you provide for that PS3 or even the dinner on your table.
But what about those of us that don't have degrees, or don't use the ones we have (due to our well informed and very educated choices to be SAHM's - *DISCLAIMER* I in no way think that NOT using your degree IS NOT A BAD THING!!!! In fact, I have personally made the choice to be a SAHM, and I love every second of it!!)
Kids learn good habits from us - picking up after themselves, using kind words instead of hateful ones, the list could go on. So why not teach them how important education is, by SHOWING them!
If you don't have a degree - consider getting one. I am living proof that it can be done! (Have I mentioned that
I'm finally graduating in May
??) If you think "I don't have time" or "I can't afford it", think again - there are degrees now that can be done 100% online or by correspondence, and there are grants, scholarships, and financial aid out there specifically for mom's returning to school!
If you have a degree, or don't want to go that route, consider a continuing education class at a local college or another type of class in something you enjoy. You can find classes in writing, art, pottery, sewing, dance, swimming, basically anything you might be interested in.
Another significant option is to read, research on the internet, go to the library. Show your kids that you never stop learning, and that it's important to continue to learn even after school is over!
As a mom that has trouble with a brooding 14 year old and school, I can say that my own educational journey has shown him the importance of "going through with it". I encourage you to show your children about how important it is to you as well!
For more
Making Your Home Sing Mondays
visit
Mom's The Word
and link up!
Blessings to you all!