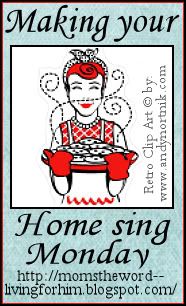 Yea!! Nan is back! That means
Making Your Home Sing Monday
is back too! Please lift her up in your prayers, kids - she's hurt her back and is still in some pain. Praying for a quick recovery for you, friend!!
If you want to learn more about Making Your Home Sing or if you would like to join in the link-up, visit Nan over at
Mom's The Word
to find out more about it!
**********************************************************************************
I don't do a whole lot of book reviews. I don't do a whole lot of reviews, period. There's a reason for that - if I don't really REALLY like or believe in something, I am not going to tell anyone they need to "rush out and get it". Just not my thing.
But there's this book . . .
It's amazing.
It has changed the way I look at housecleaning.
The name of the book is:
Just Clean Enough
By. I.B. Caruso and Jenny Schroedel
The book doesn't preach at you.
It doesn't tell you you you're wrong.
It doesn't even tell you you have to do 50,000 things at once to "get organized".
It goes through 365 days - that's one year - worth of "tasks" that you can do to help get your home where you want it to be.
Here's the secret to this book - you DON'T have to do things in order.
You can go room by room, day by day, week by week.
OR
You can search through the book for a task that takes 5, 10, 15, 20, or 30+ minutes, depending on how much time you have.
OR
You can just pick something at random!
And the tasks aren't hard or time consuming. Most of them don't take any longer than 10 minutes.
Like decluttering bath products in the bathroom.
Or picking up all your shoes in your bedroom.
Or polishing your kitchen table.
Some of these are things I do frequently, but some are things I never thought about!
For example:
washing the shower curtain
decorating the laundry room
putting a bulletin board in the living room
There are some wonderful ideas in this book. And I am going to do most of them (we don't have a basement or a huge attic like some of my northern friends might have).
I encourage you to check this book out. It's not about perfection, but about getting your home Just Clean Enough!