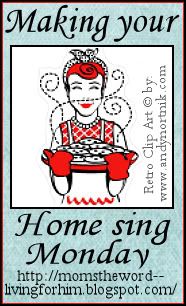 For more Making Your Home Sing Mondays, or to find out how you can participate, visit Nan over at Mom's the Word and link up!
Today is Valentine's day. Now this is one of my favorite days of the year. Maybe because of all the hearts and flowers (I'm a sucker for romance).
Maybe it's because of the fact that it's right after my birthday.
Eh, who am I kidding? It's all about the CHOCOLATE!
Just kidding (

sort of

).
My husband doesn't like Valentine's day. He thinks it's a marketing ploy. And yes, it is, but it's FUN!
I think he just wants all the chocolate to himself.
But this year, Valentine's day hasn't been as big a deal. It really hasn't been on the top of my agenda.
You see, I love my husband every day, and I try to show him that - every day.
A touch, a whisper, a soft kiss on the cheek, a word, a hug, encouragement . . . ALL these things are important on an every day basis.
Proverbs 31:12 says:
She brings him good, not harm,
all the days of her life
Now I know that they didn't have Valentine's Day in the time of Solomon, but this does NOT say "once a year" it says "ALL the days of her LIFE".
So, show your hubby some love!
Some of the fun ways to show your husband you love and appreciate him EVERY day:
♥ Get a bag of chocolate miniatures. Leave one on his pillow or in his car with a love note.
♥ Put some love songs on his MP3 player.
♥ Write a cheesy love poem on the bathroom mirror (with white-erase markers, of course)
♥ Hug him close, and whisper your devotion in his ear.
♥ Share a favorite bible verse or devotion with him.
♥ Massage his feet/shoulders/back.
♥ Get/make him a CD with some favorite songs from his childhood (if you know them) or some favorite songs of his now.
♥ Put the kids to bed early, and break out that fondue pot you've never used.
♥ Put the kids to bed early, and set the table with your nicest china, cook him his favorite meal and enjoy a candlelit dinner just for two.
For many of us, especially we Stay At Home Moms, our husbands work hard all day.
I hear so many women complaining about what their husband DOESN'T do -
they forget to be thankful for what their husband DOES do.
Remember, love is a two way street - you must give it in order to receive it.
And we must give it fully, wholly, and unconditionally.
Incidentally, for Valentine's Day this year The Hubbs is trying to find something non-food related to give me. He's trying to not be an enabler since I started Weight Watchers.
THAT in and of itself is an amazing Valentine's gift.
Of course, I DID remind him that sugar-free dark chocolate is a "power food" . . .
Have a blessed week!