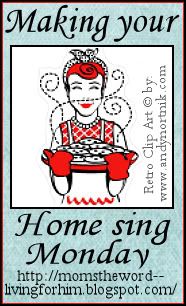 Happy Monday everyone!
SO
What can you do in ten minutes?
Yes, I know it says "15" minutes . . .
Use your imagination
I am looking at my house right now groaning because of the mess. Okay, granted it's not TOO bad. In truth, it will only take me about an hour to fix - less than that if I put my kids to work!
So often I hear people groaning over the same issues - "but the mess is SO big!" or "I CAN'T do it alone!"
All I have to say is:
"No it's not"
and
"Yes you CAN"
How do I know?
All it takes is ten minutes
TEN MINUTES
In ten minutes you can:
Quick Shine a Sink
Straighten up a bedroom
Wash Some Dishes
Fold some Socks
Unload AND load a dishwasher
Clean a bathtub AND a toilet
There are countless other things you can do in ten minutes - make up your own list!
If it all seems overwhelming, just grab a timer - a kitchen timer, the one on your oven or microwave, or even on your phone - set it for ten minutes and dive in! You'll be surprised at what you can accomplish!
Blessings to you all!!