Happy Monday Everyone! Let's get ready to Make Our Homes Sing!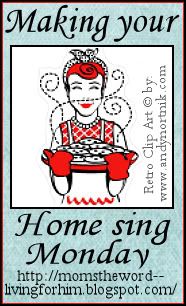 Wanna join the fun, go visit Nan at
MomsTheWord
and link up!
Don't forget that one of the easiest ways to make your home sing is to make a meal plan and shop/prep in advance! Need some inspiration? Here's my
menu for the week
! Don't forget to check out the recipes too!
PICK UP AFTER YOURSELF
It sounds like a simple thing really, but I think that we adults don't really understand the impact it can have on a household. For those without children, sometimes it's a given and sometimes it's an "oh, I'll get to that later". And MOST of the time (unless you're a compulsive hoarder) that's just fine. If you have kids, though, it quickly becomes a necessity. Why? Well, quite simply because children mimic the actions they witness.
WE CANNOT EXPECT OUR CHILDREN TO EXHIBIT BEHAVIORS THAT WE DO NO EXHIBIT OURSELVES.
For example, you want your child to clean their room. (If you follow me on
facebook
or
twitter
you know my story well with this one). BUT YOUR room is cluttered and filled with garbage and dirty clothes. Do you really expect your child to keep their room clean when you cannot?
It's the same with household chores - putting up dishes, picking up toys, vacuuming, picking up laundry, etc. If the kids witness you do it, then they'll be more likely to do it themselves when asked (and sometimes without being asked!)
Picking up after yourself will elicit a chain reaction in your home. It may take a while, but eventually everyone will jump on board themselves and start picking up after themselves too!