Happy Monday Everyone! It's time for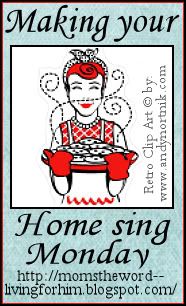 What are you doing today to make your home sing? Visit Nan at
MomsTheWord
and join the fun!
In honor of my children's first day back to school, my post today is about how to help your
CHILDREN
to sing. By letting them go and letting them fly.
It's not easy to allow your children to fly on their own. So often parents think that it's better to hold their children close all the time - to not allow them to do things outside the home or to experience disappointment or failure. But by shielding our children from these things, we are hindering them rather than helping them.
Our children need to be allowed to make their own choices and make their own mistakes. They won't learn if they aren't held accountable for their actions. In fact, they will go through life finding others to blame for their problems.
This morning I had a hard time following my own advice, I'll admit.
My 14-year-old stepson has made the choice to come life with his father and I and to go to school here. This school is about twice the size of the one he's used to - more kids, more classrooms, more teachers. He knows it's a fresh start for him, in a manner of speaking (he went to school here from kindergarten through fourth grade). But it's still frightening. This morning, I looked at him beside me in the car, he was nearly paralyzed with fear. We prayed together, and I told him I loved him and that God is in control. It was all I could do not to drive off with him and say forget it! But I also know that that wouldn't do him any good (many children thrive on homeschooling and do extremely well, some do not. My step son is one of those that do not). He needed to know that I trust him enough as an individual to make good choices in his day. He needed to know that I trusted in GOD enough to help him (SS) in his day.
I am praying that he has a wonderful day.
I am praying that he makes lots of new good friends.
I am praying that he shares his faith with at least one person this school year.
I am praying that his teachers post their homework assignments where they're supposed to.
I am praying that he does well and tries to be successful.
Even if you're a homeschooler, you can still let your children fly by involving them in activities outside the home such as gymnastics, youth group or bible study, soccer, swimming, or art or music lessons.
Today I challenge you to think about and pray about some ways you can let your children fly this week.
For more about Making Your Home Sing Monday, visit
MomsTheWord
and link up!