It's Monday, which means it's time for
Making Your Home Sing Monday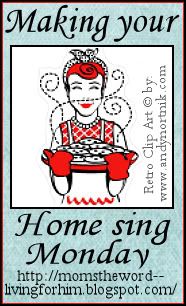 Wanna know how to make your home sing? Visit Nan over at
MomsTheWord
and find out how!
One of the best ways to make your home sing is to have your meals planned and all the shopping done for the week! Need some inspiration? Here's this weeks
menu
!
This week we are preparing for the kids to go back to school. This year Emily will be in first grade. My 14-year-old bonus son, Garrett, has decided to come stay with us, and he will be in 8th grade. We are currently looking for Mother's-day-out programs for Jacob (2).
I remember the excitement and anxiety that came along with returning to school. I grew up in the same district, pretty much (from 4th grade through high school graduation), so I learned new things along with everyone else in my class (like where classrooms and lockers are). Of course I worry for Garrett. Not only is he moving to another district, but he's moving to a new school with multiple stories. *yikes* Mommy tears will be flowing on the first day when I drop him off. Emily, of course, is excited. She is wondering which of her friends will be in class with her this year, and hoping for a couple specific children (as am I). We're hoping her teacher is a good, patient woman. When Emily's involved, patience is a MUST.
Along with the new school year, we will be implementing a
new afternoon schedule
, new rules, and a
new chore list
.We're keeping the focus on school and homework, so we are trying to keep the daily chores to a minimum for the kids. As long as they take care of their stuff, then the rest of the house will fall into place.
Looking forward to school supplies shopping. The only thing that bothers me, though, is that all we have out here is a Brookshire's or a Wal Mart. The nearest Staples, Best Buy, Target, or Office Max are all up to 80 miles from here. Staples and Office Max always have the best deals on school supplies, but the gas to drive there will offset any savings!
Speaking of savings, if you are like us, your child (our 14 year old) has grown out of EVERYTHING. So, this year we will be thrift-store shopping for most of his school clothes. Believe it or not, you can find some VERY nice clothes ON-THE-CHEAP at places like Goodwill or an Hospice Thrift store.Now, BUYER BEWARE - places with "Consignment" in the name are only SOMETIMES good bargains - sometimes you'll be paying more for a used item though than you would originally in the store! So, stick with "thrift" or "resale" shops that don't do a lot of consignment sales. Other places to go for cheap clothes - Old Navy (you can find jeans for less than $15 sometimes, and shirts for less than $5 often), Wal Mart (most clothes are less than $15), Target (designers like Todd Oldham and Anna Sui now have clothing lines for Target and their stuff is almost all less than $10!!), Marshall's (sometimes - not always), and Stein Mart (if you're looking for really classy clothes). Beware though, if you or your kids are a plus size, you may not be able to find clothes in the size you need, and if you CAN, you might have to pay a little extra.
My kids are not the only ones going back to school. I will be finally finishing my Bachelor of General Studies degree this year! Believe it or not, I have been going to college off and on since (GULP) 1995!!!! Yes. I have officially been in college for 15 years!! This is the year I finish. Really. I mean it.
And don't forget: setting
morning routines
for both you and your kids firmly into place will increase the chances of you getting out the door quickly and smoothly every morning! It may take a while to implement, but once it's done, it will be so easy to keep it up!