This week I am, once again, linking up with Nan over at
Mom's The Word
for her weekly
Making Your Home Sing
post! Go visit her right now and see what you can do to help make your home sing!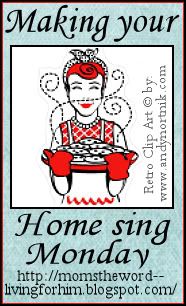 Statistics show, according to
this article
, that the number one cause of divorce is finances.
This is not surprising, as financial problems are linked to a number of issues including depression and health problems.
What is surprising is that more couples don't try to take the necessary steps in order to prevent this kind of calamity from harming their marriage.
Sometimes problems arise and there's nothing you can do about them - an injury, a lay-off, car problems, natural disasters - all of these things can happen. But more often then not, overspending, under budgeting, and lack of communication are what lead to financial disaster.
If you find yourself in this situation, the one thing to remember is that ignorance, in this case, is not bliss. It is necessary to communicate the problem with your spouse in a non-accusatory manner: "There is more money going out than what is coming in." Work together to come up with some solutions to save money: "I can give up this monthly payment" "I can give up this weekly treat." And decide together which debts should be taken care of first: "The hospital payment is more, but the credit card is more urgent".
Once the initial debt is taken care of, it's important to look at your budget again, together, to figure out where the mishap took place to begin with and what you, as a family, can do to prevent it from happening again, or to prepare for it in case it does. It may mean the whole family makes a sacrifice such as cable or satellite service, monthly gaming fees, or even giving up certain grocery items, but in the long run it will put you in a better financial place.
After you're head-above-water again, it will be important to continue to go over finances together often. Work together to see when things look like they might falter and to come up with solutions to prevent disaster. Start planning together for those unplanned but unpreventable times that could occur. And remember, above all, communication is key!