Happy Monday everyone! It's time for another round of Making Your Home Sing Monday hosted by Nan over at
Moms The Word
!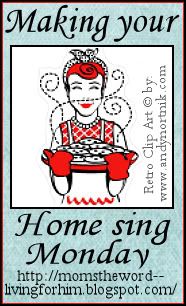 Fall is finally here in my little piece of Texas, and I couldn't be more excited. The crispness of the air; the colors of the leaves; the soups, stews, and chillies; the
Renaissance Faire
. . . And, for us, the official TURNING OFF OF THE AIR CONDITIONER. That's right. It's a ritual . . . almost ceremonial. We fling open the windows, turn off the air conditioner and bask in the cool air. It's rejuvenating. It's energizing. It's spiritual.
Opening your windows this time of year will do two things for you - first, it will allow all the dank humid air from the summer out of your home. Second, it will allow you to lower your electric bill (did you know that about 50% of electricity costs come from air conditioners?). So you get fresher air, and more money in your pocket to boot!
Okay, folks, now, turn off your computer, go turn of your air conditioner, open your windows, throw back the curtains and LET THE AUTUMN BEGIN!!!