Happy Labor Day everyone! It's time for another edition of
Making Your Home Sing Monday
Hosted by Nan at
Mom's The Word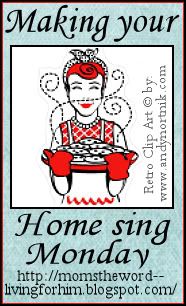 Be sure to pay her a visit and, if you blog, tell us what you do to make your home sing, then link up to her blog!
Last week, I talked about saving money with home made household laundry soap. Let me say, that I love my soap and I will never buy it in the store again.
This week, I want to share with you some more things that I've done to help my family save money on costly (and sometimes unsafe!!!) cleaning items.
Dishwasher Soap
I used the recipe on this
web site
to make my own dishwasher powder. According to the recipe, there is a possibility that there will be a residue on your dishes. Now, the recipe calls for citric acid to fix this problem, which I did not have, so I instead used a couple of vitamin c pills that I crushed up. This didn't prevent the residue, but I do have some citric acid on it's way, so I will be adding it to the mix when it gets here, and we'll see!
In the meantime, the soap cleans very well - in fact, it cleans better than my store brand gel. The downside is that it, like ALL powders and tabs in my dishwasher, can sometimes get stuck in the soap dispenser. But I think this is my dishwasher's problem, not the soap's. When this happens, I just close the door and run it again.
With the gels, I often have leftover food on the dishes, and some of it even ends up on glasses and cups in the top rack. This has not happened since I started using the homemade soap.
When it comes to rinsing agents, rather than using the expensive chemical ones found on the dishwashing aisle (you know - the electric blue stuff) - I use vinegar. It's cheaper, cleaner, and healthier to use (no chemicals)!
Scrub Cleaners
I never was big on using scrub cleaners, really. They were messy, smelly, and honestly didn't really work that well. But I did discover that a simple paste made with 4 parts baking soda to 1 part kosher salt and 2 parts water (less or more may be needed depending on weather and climate) works beautifully to clean up stuck-on messes on stove tops, sinks, counters, and even tables (I've used this on my Aunt's antique coffee table and it's worked beautifully). This also is all food grade and will harm neither the environment or humans or pets.
Spray Cleaners
I love spray cleaners - I use them for everything from floor messes to windows to . . . well, you name it. And some people will rave about ammonia or bleach in water to replace expensive cleaners. But for me, even ammonia and bleach are not safe enough to be around my children, so I make a solution of equal parts white vinegar and water in a spray bottle. I can give this and a rag to my kids and know they're safe with it as they go around the kitchen spraying and wiping. This also works wonderful on windows and mirrors - even better if you use newspaper to wipe it with!
Other Tips
-Instead of paper towels, use dish towels or microfiber rags. They work better, last longer, are re-usable and washable and use less waste!
-Instead of fabric softener, dunk a washrag in a solution of one part baking soda to three parts water and toss it in the dryer with your load.
-Make your own mixes for biscuits, skillet meals, spice mixes, rubs, and sauces.
-Make your lunch instead of buying it.
-Shop sales/clearances/and thrift stores.
-If you have a small load of dishes, try hand washing them instead of using the dishwasher
Saving your family money is one of the greatest ways to Make Your Home Sing.
Need recipes? Try Google or contact me
here
.