Happy Monday everyone!
It's time for Making Your Home Sing Monday!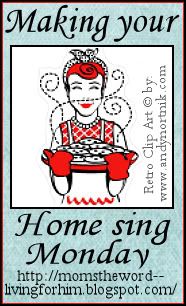 Wanna know how to make your home sing? Go visit
MomsTheWord
to find out how!
Someday I'll relate all the drama that is going on in our home right now. But as this is a public forum, I don't want to be accused of gossip or any mudslinging. There will be many questions and worries, I'm sure. If you want to know, feel free to
email me
and I'll divulge all our secret skeletons.
Short and sweet today, so to get on with it, today I am urging all of you to look at your children for who they are. Study them, get to know them. And LOVE them. Hug them every day. Tell them you love them and are there for them EVERY DAY. Play with them, spend time with them, do something special with them EVERY DAY.
Do not take any second of parenthood for granted.
Love to you all,
Have a blessed week.