Every week I make my home sing by creating a meal plan. This saves time, energy, and money! If you would like to join in the fun, go see
momstheword
and make YOUR home sing today!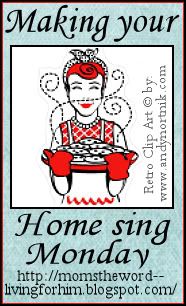 Menu for the week of June 28-July 4, 2010
Arroz con Pollo (one dish wonder)
Fourth of July! Grillin' party at the lake!
*Bonus Recipe*
Arroz con Pollo
4-6 servings
Every family has their own version of chicken and rice - some (like us) have quite a few! This is a "traditional" Spanish recipe that uses pre-mixed, fresh, and frozen items, in the spirit of Sandra Lee's "Semi-Homemade". The traditional version would use whole cut up chicken. Add mussels, shrimp, and/or chorizo and you would have a quick and easy version of
Paella.
1 10 oz package of Saffron rice mix
4 boneless, skinless chicken breasts, cut into bite size pieces
1/4 c roasted red bell peppers, chopped
1 c frozen chopped onion, celery, and bell pepper mix (also known as seasoning mix)
1/4 c frozen peas
1 carrots, chopped or 1/4 c frozen carrots
(an omit both and use 1/2 c frozen peas and carrots)
4 c water or broth
1 t margarine
1 t olive oil
Preheat oven to 375
Heat olive oil in a non-stick saute pan over medium high heat. Add chicken and saute until browned on all sides. Remove and set aside. Add onion mix and carrots and saute until onions are translucent and carrots are almost tender. Spray a 9x13 casserole with cooking spray. Combine all ingredients in casserole and mix to combine. Cover with foil. Bake at 375 for 45 minutes. Remove foil and continue cooking for 10-15 minutes or until rice is tender. Allow to cool for 10-15 minutes before serving.